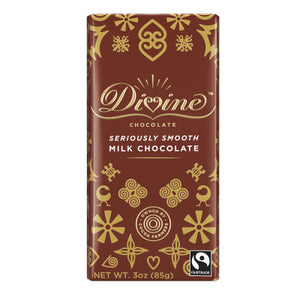 Classic, creamy and smooth. Kosher certified. 3 oz/bar

Ingredients:
Suitable for vegetarians. Free from artificial flavorings, colorings and preservatives.
Fairtrade sugar, Fairtrade cocoa butter, Dried cream, Fairtrade cocoa mass, Whole milk powder, Emulsifier: soya lecithin (non GM), Fairtrade vanilla.

Manufactured in an environment where nuts, milk, gluten and wheat are present.
Your purchase helps pay a cooperative of small-scale cocoa farmers in Ghana market premiums, improving their quality of life.