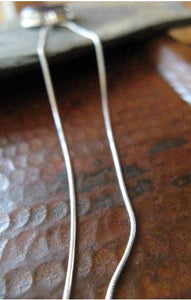 Sterling silver light snakey chain with lobster claw clasp.
Our sterling silver snake  chains are well made and sturdy, yet light and elegant. Denise the owner says she wears hers to bed every night.
Our chains are made in Arezzo, Italy, by a company called Liberty Preziosi. After suggesting to our jewelers in Nepal that they make and sell their own chains, our producers explained that the machines used to make them are very expensive.  In addition, there is no market in Nepal for chains and they need much wider distribution to make this profitable. So they have found this  ethical company in Italy to buy from, and have assured us the business practices fair labor policies. 
They come in 4 sizes:   16″, 18″, 20″and 22″