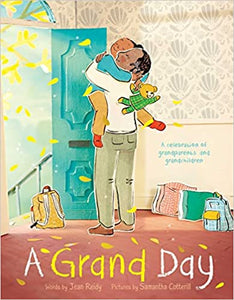 A million kisses! Hugs! Hooray!
Our grand day begins this way.


Whether planting a garden, having a picnic, or baking, any day spent together is sure to be 
grand
.

Follow all kinds of family configurations as grandparents and grandchildren celebrate togetherness: baking, exploring, gardening, and all of life's joyful moments. This rhyming, warmhearted picture book captures the unique bond between grandparents and grandchildren in every kind of family!

Jean Reidy is the beloved and bestselling author of 
Truman
 and 
Sylvie
. Here she joins forces with artist and craftswoman extraordinaire Samantha Cotterill, who brings this delightful story to life with her signature diorama-style illustrations.