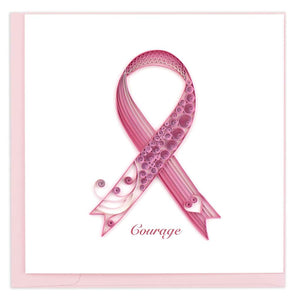 Send a quilled Breast Cancer Ribbon to a fighter or survivor in your life! Thousands of Americans are affect by Breast Cancer each year and a beautiful handcrafted card can lift their spirits when they need it most! The design features a large pink ribbon filled with quilled circles and swirls.
Outside Copy: Blank
Inside Copy: Blank
Inside Size: 6in x 6in
Description: All of our cards come with a coordinating envelope, and a short history of quilling on the back of the card. Our square cards require extra postage. Made in Vietnam.