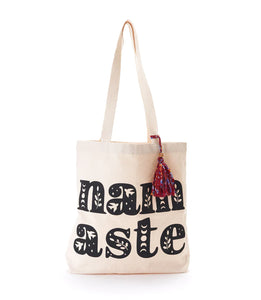 Handcrafted with love, this cotton tote bag supports a green lifestyle. Reusable shopping bags are a convenient way to reduce waste and minimize our footprint. This attractive, reusable canvas shopper is ideally sized to serve as an everyday carryall bag. It is perfect for transporting heavier and bulky loads, including groceries, books, work files, papers to grade, arts and crafts, knitting, veggies from the garden, tarot cards, or wine and cheese for a dinner party. This unique tote bag makes a great option for a teacher bag, beach bag, library bag, farmers market bag, or shoulder bag for work or school. It provides stylish canvas tote storage for game and hobby at home or on the go. A minimalist needs just one or two beloved reusable bags. Lovers of games and hobbies, as well as those who bring their work on the go, can never have too many! In either case, this tassel tote is sure to be a favorite. Made in India.


 *Due to the handmade and upcycled nature of our items, colors and designs of sari tassels cannot be determined or chosen. Each piece is a unique surprise and may not match the photo shown (photos are just an example).
Dimensions: 14"L , 13"W , 10" strap
Purchases of Matr Boomie's exclusive products sustain jobs for people throughout India who have been handcrafting artisanal goods for generations. We partner with women's groups, minorities, people with special needs, urban slums and isolated rural communities to empower artisans through dignified, sustainable employment.
Above all, we value: 
• Safe work conditions 
• Education 
• The confidence and well-being of our artisan partners 
• No child labor 
• Sustainable materials and trade practices