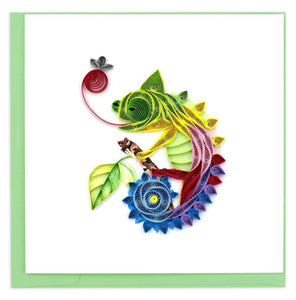 Send a quilled Chameleon greeting card to the vibrant friend in your life! Chameleon's symbolize sensitivity and clairvoyance and are a good reminder to live at your own pace. The design features a chameleon in rainbow paper art of green, yellow, red, purple, and blue. His red tongue is extended into a swirl capturing a small gray bug as he perches on a branch with a leaf.
Outside Copy: Blank
Inside Copy: Blank
Inside Size: 6in x 6in
Description: All of our cards come with a coordinating envelope, and a short history of quilling on the back of the card. Our square cards require extra postage. Made in Vietnam.