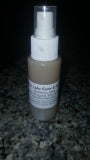 Honey Propolis Throat Spray or Beekeeper's Throat Relief is made from 100% natural ingredients from our beehives: Raw honey, propolis tincture, herbal mix infusion, grain medical alcohol, spearmint and eucalyptus essential oils. 2oz (60mil) 

Beekeepers Throat Relief helps with 
-Dry mouth 
-Bad breath 
-Infections, burns, blisters 
-Canker Sore 
-Dental Problems 
-Painful Gums 
-Sore Throat, Mouth,Tongue 
-Cough, Bronchitis, Congestion 

Suggested Use: Shake well before using 3-5 sprays as needed. 

Honey is naturally antibacterial and antifungal, natural antioxidant, enhances energy level and boost your immune system. 

Propolis is commonly used for its healing and soothing problematic areas in your mouth. Propolis protects against bacteria and functions as a great anti-inflammatory agent. 

Herbal Mix Infusion: 
Thyme for bronchitis or upper 
respiratory infections 
Elderberry for antiviral action 
Lemon balm to calm nerves and stomach and 
help cold sores 
Ginger for nausea, upset stomach and chills 
Chamomile and rosehip restore energy and help the body resist infection and for coating and soothing inflamed throats 

DISCLAIMER: These statements have not been evaluated by the Food and Drug Administration and are not intended to diagnose, treat, cure or prevent any disease.