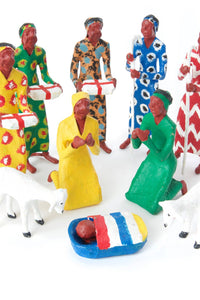 Krispen is a creative Zambian artist who expresses his artistry through papier-mache using recycled wire and reused paper packaging from local stores. His uniquely styled nativity scene includes a colorful assemblage of Baby Jesus, Mary, Joseph, two shepherds, three wise men, and two lambs.
Sold as a set of figures. Because this is a handcrafted item, each will vary slightly.
Dimensions:
Standing Figures: 1.5"L x 2.5"W x 6"H
Kneeling Figures: 1.5"L x 2.5"W x 4.5"H
Lambs: 3"L x 1"W x 2.5"H
Baby Jesus: 2.5"L x 1.5"W x 1"H
Since 1995, Swahili has been partnering with African artisans to showcase how beautifully traditional craft methods adapt to modern life. We strive to develop products sustainably to benefit African communities.