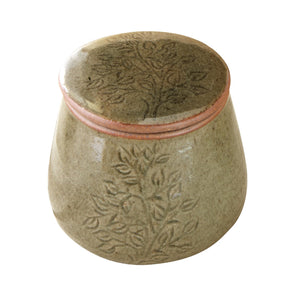 A genius design from Rajana Association of Cambodia, this butter crock is a simple and effective solution to your butter woes. Butter, when placed in the cup-shaped lid, will stay soft and fresh. Simply add water to the base for an airtight seal.
Ceramic
Dishwasher safe
Holds 4 ounces of butter
3.5x3H inches
Made in Cambodia
The Rajana Association is a nonprofit organization for income generation and skills training, producing fair trade products using traditional Cambodian skills with contemporary designs. The name Rajana means "design" in Khmer. Rajana Association focuses on the rural and urban poor, and small producers of handicrafts. Rajana trains young Cambodians in traditional craft–making skills, as well as in accounting, marketing, computer courses and English. Through development of traditional craft–making skills, Rajana helps maintain and rebuild Cambodia's rich cultural traditions, damaged in the country's wars.