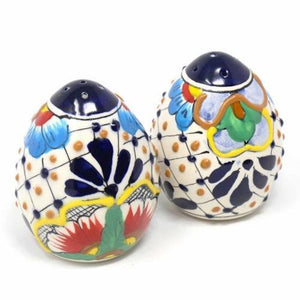 This traditional Mexican pottery is crafted and hand painted by artisans in Mexico using traditional pottery technique. Each piece is highly textured and unique -- these pieces are gorgeous, yet very functional. Mexico

One shaker features 5 holes and the other a single hole at the top, allowing for versatility and usability.
Lead-free and dishwasher safe.
Each shaker measures 3.5-inches tall and 2.5-inches in diameter. 
Any minor variances in the design simply attest to the handcrafted nature and individuality of these pieces. Please allow for slight color and design variations.