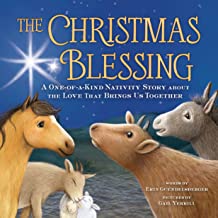 On this divine night in Bethlehem, as the stars are brightly shining, a voice calls down to a group of animals gathered in a stable. It is time to prepare for a special arrival, the Savior who will gift the world with love and grace. Will the different animals be able to set aside all of their differences, come together, and work in harmony to have the manger ready in time? In this one-of-a-kind nativity story about acceptance of others and kindness to our neighbors, the animals discover the love, peace, and family that bring us all together―a delightful read aloud for a new holiday tradition year after year!
Filled with charming rhymes and beautiful illustrations, this inspirational Christmas picture book for kids offers a fresh retelling of one of the most well-known biblical stories, the perfect holiday stocking stuffer and Christian gift for kids ages 4-7. PLUS rejoice in the magic of Christmas with a special blessing inside to share with loved ones!
Let's set aside our differences―there's so much we all share―
And celebrate the blessings of God's grace and love and care!