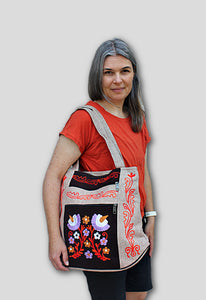 Stoplar ari embroidery, double front zip bag with two short handles, 14x16x3.75
Fun and functional, this tote has style! Beautiful fabric decorated with staplar embroidery make it hip and current. Two zip pockets on the front, one inside, and zip closure on top make it practical. 14 tall x 16 wide x 3.75 deep, this bag fits the average laptop. Assorted colors, some two tone, some single tone. Baburam. Made in Nepal.

Baburam and Arjun are co-owners of Tibet Wears. Often it is just the two of them working to fill orders and so they are not often involved in employing someone else.  If they have more work than what the two of them can do they employ workers on a piece-rate system where the worker determines the price and how much they want to work.  Their normal work day is 8 hours.  If someone is interested in working with them a lot then they will try to provide as much work as they can for the person and provide holiday leave.  Mostly, however, it is just Baburam and Arjun.  They work well together  This is a tiny micro-enterprise where two people have mutually benefited from each other's talents.
For the past several years Baburam has partnered with a local weaver named Basanta Kumar.  Basanta is a self-taught weaver.  He began with one loom and then a second.   He use to travel 16 kilometers by bicycle to sell his fabrics at the market (45 minutes each direction).   Now Basanta owns 36 electric looms and employs 20 weavers.  He also employs two women for drafting, others for bobbin winding, and technicians who are on salary.  Basanta and his employees produce the embroidered stripe fabric used in many of Ganesh Himal Trading's men's shirts. When there is electricity, he is able to produce 30-40,000 meters a month.  Basanta still oversees much of the fabric dyeing himself.  Ganesh Himal is proud to support Nepali-made fabrics and businesses like Basant's.