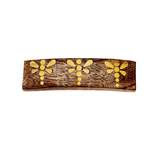 Handcrafted dragonfly barrette ethically hand carved from sustainably harvested mango wood in north central India. This unique barrette features an eye-catching dragonfly inlay design of gold finish brass. Brass elements are skillfully inlaid by hand to achieve the refined result. A snap clasp on the back side of the barrette ensures a secure hold. The art of traditional Indian wood craft requires mastery, passed down through generations, to create intricately hand carved treasures from solid blocks of mango wood.
MATR BOOMIE is a wholesale fair trade collection from India that marries modern design sensibility with inspiring traditional art forms, bringing people and cultures closer together. 

We began in 2006 with the mission of creating opportunities for women and minorities to realize their creative, economic and leadership potential. Since then we have grown our network to empower 20,000 artisans in 40 partner communities throughout India. More than 1,500 retailers in North America, Europe, Australia and Asia sell our jewelry, gifts, journals, fashion and home accessories.