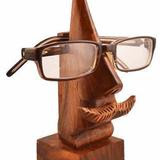 Fair trade wood products are carefully and precisely made by hand and with very basic hand tools. Pieces are created from light and grainy mango wood or darker sheesham wood sourced by our artisans in Moradabad, India.
Made from Shesham wood
Carved by hand using basic tools
Stained finish
Size: 6" H x 2.5" W
Our fair trade wood products are made by hand and by using basic power tools in Moradabad, India. In 2017, due to Indian Rosewood's (or Sheesham Wood) overuse and declining numbers, governing bodies mandated that the wood stop being used for production and export. Since then, our artisans switched to mango wood coming from the mango tree. Since mangoes are in high demand, the trees are abundant and are a great source for wood products. After a couple of years, the tree can no longer bear fruits and is cut down and used for making products such as ours! Mango wood is noticeably more grainy and lighter that Indian Rosewood. 
.