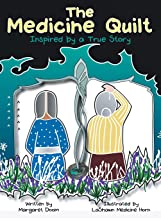 On a great river lined with chalk rock faces and shedding cottonwoods, amidst a sea of tall grass seeded with feathered tops, there was a small town. In the town, there were those who had been born of the earth and those who had come to the land as strangers; there was never peace between the two groups.
Two grandmothers, one from each sector, grew weary of the constant strife. They believe they must do something to help the people of the small town rewrite their story. The grandmothers pray for four days, and when they come together, they make a plan. They create a work of art to heal the rift between their people.
A fable, The Medicine Quilt tells the story of a small town's journey from anger and mistrust to forgiveness. It tackles the historical challenges of race relations between white and Native Americans with themes applicable to the universal challenges of finding respect and unity among cultures.