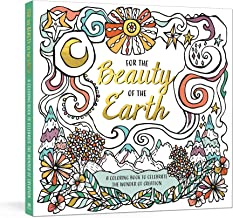 From snow-capped mountains and deep ocean trenches to lush rainforests and wide-open plains, the Earth is full of breathtaking beauty, variety, and majesty. Evidence of God as the Master Creator is never farther than a glance away, if only we remember to look.
 
With beautifully designed illustrations and inspiring quotes about the grandeur of nature, 
For the Beauty of the Earth
 is a perfect resource for deepening one's appreciation for the natural world and growing in connection with the Creator. Each intricate page features an original design from one of six talented artists illustrating a corresponding quote.
 

For the Beauty of the Earth
 includes:
•  Large format 9.75" x 9.75" (25x25cm) perforated pages
•  45 single-sided coloring pages
•  Quotes from the Bible, hymns, and a variety of inspirational writers and speakers, such as John Muir, George Washington Carver, J. R. R. Tolkien, Alice Walker, Robert Frost, Anne Frank, and more
•  Illustrations by Holly Camp, Jennifer Tucker, Ann-Margret Hovsepian, Laura Marshall, and Bridge Hurley—all featured in 
Whatever Is Lovely
 and 
Choose Joy
—as well as new artist Shannon Contreras


For the Beauty of the Earth
 will take you on a journey toward recognizing and appreciating the natural beauty in our world. Whether you travel this path by yourself or in a group, pick up your favorite art supplies and color your way to a new perspective of awe and wonder for God's creation.