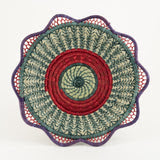 Beautiful Josefina Basket is delicately handwoven of native grass and pine needles with colorful raffia accents and a scalloped rim.  Handmade and designed by the women of Mayan Hands El Triunfo cooperative, this basket is a wonderful tabletop accent, but was designed to be used! Handmade and fair trade.
Native grass, pine needles, raffia
11" diameter,  2.25" high
Mayan Hands began its activities in the early 1990s, founded by Fredy and Brenda Rosenbaum, both natives of Guatemala. Brenda had lived and conducted anthropology research for many years in Mayan communities in both Guatemala and Chiapas, Mexico, where she was graced with generous hospitality and friendship. She witnessed the hard-working lives and the amazing talent of the Mayan people she knew, as well as the effects of the marginalization and discrimination they have endured for centuries. At the time when Mayan Hands embarked on its work, many Mayan communities were engulfed in the Guatemalan civil war and suffering terrible devastation and loss. Working with fair trade for all these years has brought a sea change in the lives of the women we work with: they speak out, resist domestic oppression, and, counting on a regular income, have more agency in their lives.