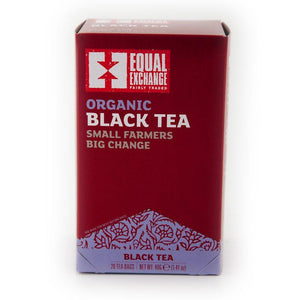 You're different. You take your tea strong, and you take it seriously. Enigmatic in its simplicity, this bold signature brew was made for you.
Aroma: honeyed dates, orange, floral
Flavor: sweet, dark dried fruits, bright astringency, lemon, round and sparkly
This blend includes tea from the Small Farmers' Tea Project (SFTP) in Kerala, India – an organic, Fair Trade tea garden managed by Tea Promoters of India (TPI). TPI is a pioneer in environmental and social reform in the tea industry. The SFTP is bringing economic growth and control to its members, who are predominantly marginalized small producers from tribal groups that have suffered from social and economic injustice for generations.

Most teas — even Fair Trade teas — come from large-scale plantations and tea estates where workers have little say, and are trapped in a system of dependency. Equal Exchange's fairly traded, organic teas are different! We buy our delicious tea directly from democratically-organized groups of growers. When small-scale farmers gain access to the global market, they have more economic power, better lives, and healthier communities.