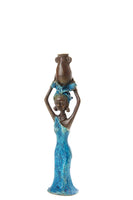 Metal sculptors in Burkina Faso use a lost-wax casting method to create beautiful works of modern African art. Available in three sizes, Crystal portrays a woman in a beautiful blue frock and head wrap holding aloft a shapely water jug.
[Small] 2"L x 2"W x 8"T
Sold singly, with three sizes available. Because these are handmade creations, each will vary slightly.
We believe that hardworking African artisans, producers and export agents hold the key to their own personal success, and that the path to success requires a steady, committed pace. Swahili extends each artisan's channel of trade from local markets to the global marketplace, all the while providing artisans with options to work from the comfort of their own homes and communities. Secure in the knowledge that the fair payment they receive will not be reduced by traveling expenses, childcare costs and haggled prices, most artisans in the Swahili network promote their family's future by using earnings to put food on the table and pay educational expenses for their children.