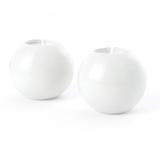 Kenyan artisans hand carve these beautifully simple globe tea light candle holders from creamy white soapstone. Since soapstone can contain small veins of color from various minerals, each pair of candle holders is completely one-of-a-kind.
Because these are handmade items crafted from a varying natural material, each is unique.
Dimensions: 3"L x 3"W x 3"H
Crafted from: Soapstone
Since 1995, Swahili has been partnering with African artisans to showcase how beautifully traditional craft methods adapt to modern life. We strive to develop products sustainably to benefit African communities.