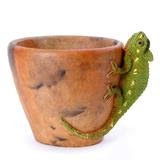 A small team of Kenyan ceramics artisans excel at fashioning functional art from clay. Their newest line of low-fired pottery pieces centers around chameleons, molded artfully in clay to bring a touch of Kenya's diverse natural world to the home. This small vessel can be used to hold kitchen utensils, pens and pencils or dry snacks. Please note that if intending to use this vessel as a planter, no bottom drain hole is present.
Sold singly. Because this is a handcrafted item, each will vary slightly. Dark inclusions from firing are to be expected.
Dimensions:  6.5"L x 5"W x 5"T
Crafted from:  Clay, acrylic paint
Since 1995, Swahili has been partnering with African artisans to showcase how beautifully traditional craft methods adapt to modern life. We strive to develop products sustainably to benefit African communities.