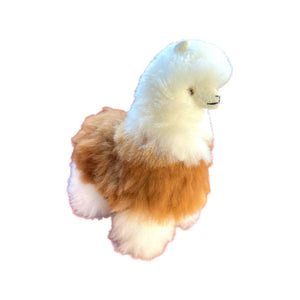 This is real and ethical fur. No animal cruelty was involved in the harvesting of this fur.
It features hand-stitched plastic bead eyes, threaded mouth and nose.
A great addition for littles as well as for home offices and shelves for the not-so-littles. A little mascot for your day.
Non-itchy, hypoallergenic, silky-smooth. Resistant to pilling and matting. Water and stain-resistant.
Therapy animals bring calm and joy into a space and into your everyday.
Alpacas are used as therapy animals in professional practice.
The huggable alpaca's peaceful disposition makes them a favourite for animal-based therapies.
Hand Crafted Genuine White Alpaca Fur plush doll from Peru

Natural Color Super Soft and Light 24" Top Quality (Diagonal measurement)

Artisan Carmelo Pacompilla Producer in Limited Edition

Direct from the Artisan Source these little Alpacas are adorable

Lovable & Hug-able 100% Natural Alpaca fur
Wipe with a damp cloth & air dry.

May brush gently to fluff up.