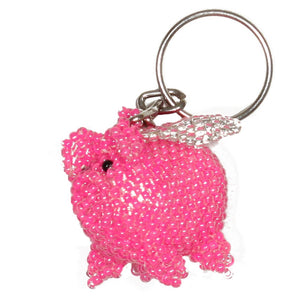 Our key-chains are hand-made from the highest quality glass Czech beads that are imported into Guatemala. 
Set your keys apart with our hand made flying Pig keychain from Guatemala.  
The beading on these flying pigs is securely stitched into a woven fabric of beads and is very sturdy. Unlike some beaded animals that are beautiful and engaging but very delicate, these fish are durable and with normal handling will hold up extremely well.. 
Size: 2" x 3"
Colors: Assorted
Check our new line of beaded key chains

These are hand-made by several Guatemalan families from the privacy of their own homes.

A perfect gift for any animal lover, yourself included!