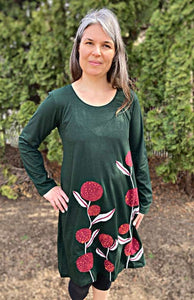 Knit cotton dress with beautiful appliqué floral design and pockets. Available in S, M, L, XL. Fits true to size. With full length sleeves, this dress is perfect to transition seasons in- add leggings for fall or pair with sandals and a jacket for spring.
Fleeing from Tibet at the age of 12 with little schooling and no money, Pema-la Lama struggled to settle herself into her new country of Nepal.
A refugee there, she taught herself to read and write in Nepali and learned how to knit and sew, all the while caring for 6 younger siblings and tending to a father dying of cancer.