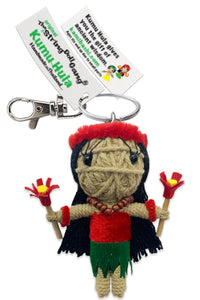 Kumu Hula is the master teacher of the art of hula - and this string doll version of the Kumu Hula teacher gives you the gift of ancient wisdom. Listen and learn!
Handmade in Thailand
Dimensions: 3.25 inches long
Includes lobster claw keyring and double-sided fabric tag
Small parts. Not for children under 6 years old
With every product you purchase, you are helping provide employment, educational opportunities and medical care to artisans in Thailand.