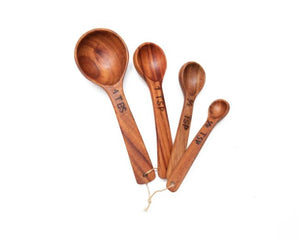 These handmade wooden measuring spoons are so nice you won't want to use them and get them dirty! (But you can!) Beautifully carved by hand by artisans in Guatemala using natural macawood, this set will complement any kitchen. Each is unique, no two are exactly alike! Handmade and Fair Trade.
Includes: 1 TBS, 1 TSP, 1/2 TSP, 1/8 TSP
Full set is ~5" L x 1 1/2" W
Due to the handmade nature of this product, exact measurements and colors may vary slightly.