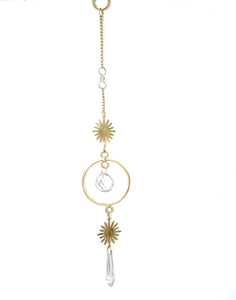 Let the sun shine through with this breathtaking Sunburst Catcher. It features two golden suns - one above and one below a golden circle with a large crystal in the center. There is a smaller crystal at the top and the bottom is adorned with an icicle crystal that ties the whole thing together.

If hanging outside we suggest spraying the metal parts with a clear coat to prevent rusting.
MOQ: 2 pieces
Size: 18" x 3"
We at Mira Fair Trade hope to empower women and underprivileged artisans in India by helping them attain long-term sustainability and economic independence through the Fair Trade model rather than via traditional charitable donations.  We are excited to offer our customers a wide variety of eclectic and unique home decor products made ethically with many recycled materials!