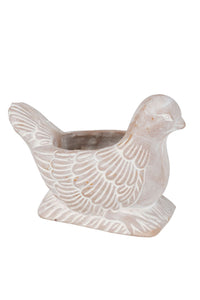 Handcrafted of terracotta, then whitewashed, the Terracotta Dove Planter has a drainage hole in the bottom and feather details in the ceramic sides. Use indoors or outdoors.
Materials: Terracotta
Protect planter from freezing temperatures to avoid cracking.
Will hold up to a 3" pot.
8.5"Lx6"Hx4"W
Includes drainage hole in bottom
Handcrafted in Bangladesh
CORR stands for Christian Organization for Relief and Rehabilitation. Corr–The Jute Works is a women's nonprofit handicraft marketing trust and exporter of quality handicrafts. Based in Dhaka, Bangladesh, The Jute Works represents more than 4,000 rural women artisans in 154 workshops. The Jute Works strives to empower rural women through handicraft production, animal husbandry and small job creation projects. The group works with women regardless of caste, creed and race. It provides job training, develops leadership skills and generates awareness of the women's plight.