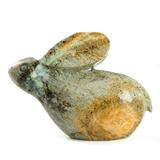 This abstract portrayal of a rabbit is hand carved in beautiful green serpentine stone by talented Zimbabwean artisans. Due to natural variances in the stone, each rabbit is completely one-of-a-kind.
Sold singly. Because this is a handcrafted item made from a naturally varying material, each will vary.
Dimensions: 8"L x 3.5"W x 6"H
Crafted from: Serpentine stone
Since 1995, Swahili has been partnering with African artisans to showcase how beautifully traditional craft methods adapt to modern life. We strive to develop products sustainably to benefit African communities.