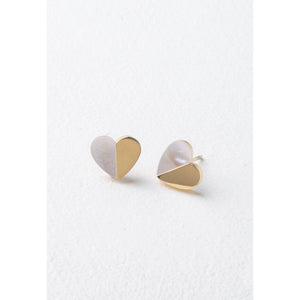 We truly believe that hope should be shared, and we have created the Give Hope Earrings with this in mind. When you purchase the Give Hope Earrings, to gift or to keep, we create a second pair to give to a woman still in exploitation. By choosing to purchase and wear your Give Hope Earrings you are literally giving the gift of hope to women still in exploitation waiting to experience freedom.
Our Give Hope Earrings feature the coming together of iridescent mother-of-pearl and 14K plated gold. Each speaks of the restoration you catalyze as well as our shared heart to see women still in exploitation experiencing freedom, establishing independence and developing dignified careers. We hope that as the women we meet receive this beautiful gift, they will have new hope for a life outside of exploitation. May what starts with a gift of hope grow into an opportunity for more women to experience freedom

Materials : 14K Gold plated mother of pearl stud earrings
Hypoallergenic ; lead and cadmium free with nickel content less than 100 ppm.
We are a Social Enterprise with a Holistic Care Program that cares for women escaping human trafficking and exploitation in Asia. At Starfish Project women and girls  experience freedom, establish independence and develop careers. We have employed and trained over 150 women and served thousands more through our community outreach.