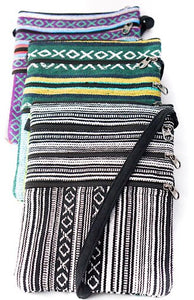 Gyari cotton passport bag w/3 zippered pockets, assorted colors.
Baburam and Arjun are co-owners of Tibet Wears.
Often it is just the two of them working to fill orders and so they are not often involved in employing someone else.  If they have more work than what the two of them can do they employ workers on a piece rate system where the worker determines the price and how much they want to work.
Made in Nepal.