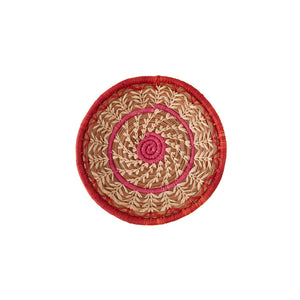 The bright beauty of the Imelda Basket will make your home, desk, or table sparkle!  Imelda is perfect as a joyful catch-all, bringing colorful energy and helping you stay organized. Or, display Imelda on the wall! Combines beautifully with the vibrant colors of our 
Maya Fiesta table linens
. Mayan Hands artisan partners in Sololá, Guatemala designed this cheerful, colorful basket.
Pine needles, native grass, raffia
6.5" diameter x 1.25" high
Mayan Hands is a fair trade nonprofit organization dedicated to providing economic and educational opportunities to Mayan women and girls so that they can build sustainable futures for themselves, their families and communities, as they continue to live within the culture they cherish.
Working with fair trade for all these years has brought a sea change in the lives of the women we work with: they speak out, resist domestic oppression, and, counting on a regular income, have more agency in their lives. We are all especially excited about Mayan Hands Education Fund, which provides scholarships to the daughters of our artisan partners and school supplies to all children.