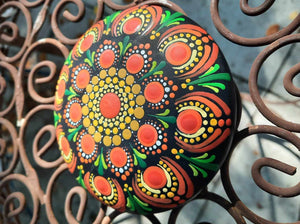 You are all ready to take your Mandalas to the next level and create our pattern on a hand-cast stone. You will use skills learned in the first two classes using dots and swooshes. Bring all dotting tools including the charcoal pencil. *Design will be debuted on my Facebook page, One Dot at a Time.
IMPORTANT: Intro to Mandalas: Dotting AND Intro to Mandalas: Dots and Swooshes MUST be complete before taking this class.
**Registration closes 1 day prior to the class in order for the instructor to have time to get materials ready. We cannot guarantee any registrations within the 24 hours prior to class.