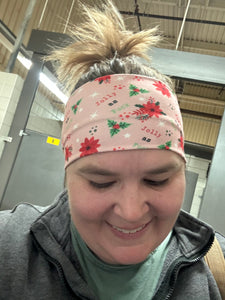 Hello, my name is Kayla and I make all the headbands myself. I started making headbands because I work in a factory and must wear a hard hat. The headbands are a fun way for me to express who I am and a way to prevent the plastic liner from rubbing my head. Then shortly after that, I started putting the twist in them so they won't slip off my head at the gym and the twist makes for a super cute and versatile way to wear them!

They are made to be worn however you would like. The taper can be placed in front for a trendy turban twist or at the nape of your neck. The closer you wear the taper to your neck the more it helps prevent sliding throughout your day.
Since the headband is handmade I recommend washing them with like colors and laying them flat to dry.


One size fits most
If you are wanting smaller sizes please email me at Madebykaylacrafts@gmail.com

Please note that there may be slight variations in the design of each individual headband.
Also, note that this product cannot be returned due to its head-worn nature.