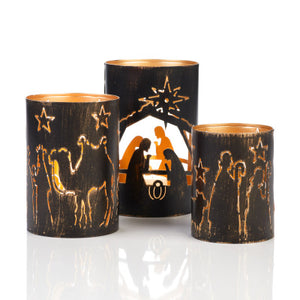 Light glows warmly through the intricat, 12 bars/case.
e patterns of this handmade nesting lantern nativity set, created from partially recycled iron. The smallest lantern depicts the shepherds tending their flock, the medium the 3 Magi bringing gifts, and the largest the manger scene. Pair with a votive candle or LED tea light (not included). Dimensions: Sm: 4 3/4"h x 3 3/4"dia; Med: 6"h x 4"dia; Lg: 7"h x 4 1/2"dia.
Your purchase helps artisans in Moradabad, India "graduate" and create independent businesses, breaking the cycle of poverty and preserving Indian culture and livelihood.