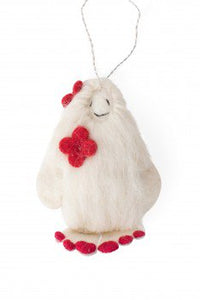 Not your grandmother's Abominable Snowman. The She-Yeti Ornament is sure to be the cutest thing on your tree. This ornament is handcrafted from cotton and wool felt in the foothills of Himalayas. Felt refers to non-woven fabric formed when wool fibers lock together under heat, moisture and pressure. This bonding of fibers is called felting. The Association for Craft Producers has been at the forefront of reviving this traditional skill in Nepal. It is an important folk tradition in Nepal, where people living in mountainous regions once made felt carpets.
Wool, cotton, polyester fiber
3Wx4H inches
Handmade in Nepal
Association for Craft Producers (ACP) is a nonprofit group that provides design, marketing, management and technical services to low-income artisans, the majority of them women, providing regular, fair wages.