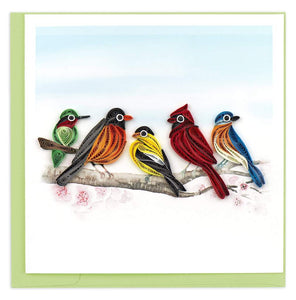 Share this beautifully quilled Songbird greeting card for any occasion! Spring is the time of year we begin to hear the birds singing and see them out and about but these quilled feather friends are around all year long! This design shows five birds perched on one branch together including a cardinal and hummingbird.
Outside Copy: Blank
Inside Copy: Blank
Inside Size: 6in x 6in
Description: Sing along with five beautifully quilled songbirds perched on a cherry blossom branch. Made in Vietnam.

All of our cards come with a coordinating envelope, and a short history of quilling on the back of the card. Our square cards require extra postage.