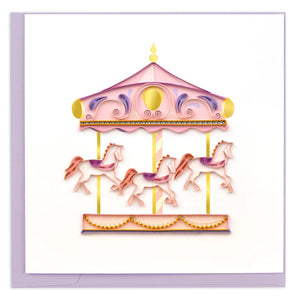 Cuteness OVERLOAD! The artisans really out did themselves with the beautiful Carousel. In sherbet tones the ponies are ready for riders. This card would be wonderful for baby shower or a sweet little girl.
Each quilled card is beautifully handmade by a highly skilled artisan and takes one hour to create. A quilled card is meant for you to share, treasure as a keepsake, or display as the work of art it is.  Made in Vietnam.
Verified Fair Trade Federation Member

Don't just send a card, send art!
Outside Copy: {INSERT}
Inside Copy: Blank plus additional blank insert to write your own message
Size: 6 in. x 6 in.
Envelope Color: Subject to Availability

*Extra postage required for mailing