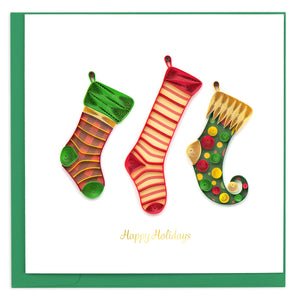 What better card to fit in your stockings than the Quilled Christmas Stockings Greeting Card. This design features three stockings made up of of various sizes and colors. day.
Outside Copy: Blank
Inside Copy: Blank
Inside Size: 6in x 6in
Description: All of our cards come with a coordinating envelope, and a short history of quilling on the back of the card. Our square cards require extra postage.
Quilling Card, rooted in Vietnam, has been incredibly fortunate to assemble a team of women who have become passionate about the art of quilling. In 2015, we were honored to become Fair Trade Certified with the Fair Trade Federation. The organization focuses on maintaining a code of values for just treatment of employees. They encourage growth and sustainable business all over the world. Saying a product is 'handmade', especially overseas, can often carry a negative connotation if there is no transparency about the working conditions and treatment of employees. Allying with the FTF, we are proud to have established successful, flourishing business practices.