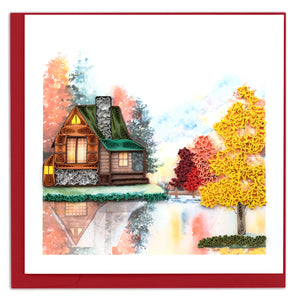 Take a moment and enjoy nature. The quilled cabin is set on a beautiful water color lake reflecting the fall leaves. Whether you travel for fall foliage or just enjoy a crisp fall walk our Cozy Cabin card is sure to bring a smile.
 Each quilled card is beautifully handmade by a highly skilled artisan and takes one hour to create. A quilled card is meant for you to share, treasure as a keepsake, or display as the work of art it is.
Verified Fair Trade Federation Member

Don't just send a card, send art!
Outside Copy: Blank
Inside Copy: Blank
Size: 6 in. x 6 in.
Envelope Color subject to availability

*Extra postage required for mailing

Description: All of our cards come with a coordinating envelope, and a short history of quilling on the back of the card. Our square cards require extra postage. Made in Vietnam.