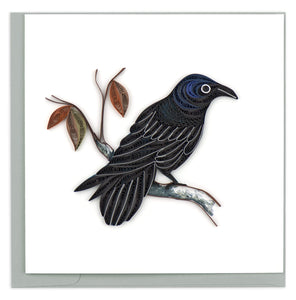 A symbol of death made famous by the Edgar Allen Poe poem, the Raven is not always the most welcome sight. Because of that distinction, this intricately quilled design makes for a spooky Halloween greeting you can send to friends.

Don't just send a card, send art!

Certified Fair Trade Federation Member. Made in Vietnam.

Outside Copy: Blank
Inside Copy: Blank plus additional blank insert to write your own message on
Size: 6 in. x 6 in.
Envelope Color: Gray
Requires extra postage.