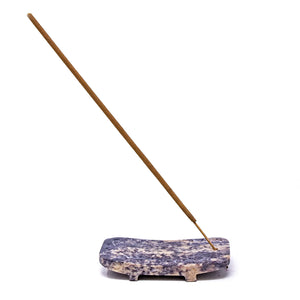 Simple rectangle incense holder
Product Features:
Type: Home Decor.
Colors: Grey.
Materials: Soapstone. 
Dimensions: each holder is 3.5 inches long by 2 inches wide.
Story behind the Art: 
The region of Uttar Pradesh, India is known for it hand-carved stone crafts that have been passed down for generations.  Artisans use hand tools to carve and smooth out the stone work
Due to the handmade nature, slight variations in size, color, shape, pattern, or other characteristics may be evident. Each piece is truly a unique work of art, lovingly crafted by hand.