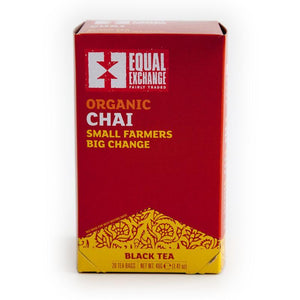 With an inviting flavor of ginger, cardamom, and cloves, you can serve Organic Chai in the traditional manner sweetened and with milk, or try it on its own.
Aroma: baked apple, cinnamon, clove, ginger, black pepper
Flavor: spicy black pepper, ginger root, sweet, aromatic clove, carmelized sugar
This blend includes tea grown by the Small Organic Farmers' Association (SOFA) and processed by Bio Foods in Sri Lanka. SOFA is a community of over 1,600 small-scale landowners committed to environmental preservation. They grow a variety of crops including tea, pepper, cloves, and ginger. Bio Foods grants market access to small farmers so that they can stay on the land, provide strong livelihoods for their families, and maintain healthy and vibrant communities.