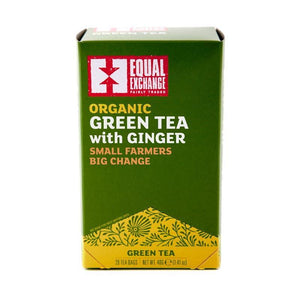 Offering the best of both worlds by combining the floral, toasted rice, and oceanic flavor notes of green tea with a warmingginger kick.
Aroma: floral, jasmine, nori, toasted rice, ginger root, candied ginger, pepper
Flavor: honey, nori, lemon, candied ginger, ginger root, lemon and black pepper
This blend includes tea grown by the small-scale farmers of the Potong Tea Garden in Darjeeling, India, an organic, Fair Trade tea garden managed by Tea Promoters of India. Once a colonial plantation, Potong is now collectively run. The ginger in this blend is grown by the Marginalized Organic Producers' Association, a network of over 800 farmers, about half of whom are women, in the Uva and Central regions of Sri Lanka.

Most teas — even Fair Trade teas — come from large-scale plantations and tea estates where workers have little say, and are trapped in a system of dependency. Equal Exchange's fairly traded, organic teas are different! We buy our delicious tea directly from democratically-organized groups of growers. When small-scale farmers gain access to the global market, they have more economic power, better lives, and healthier communities.