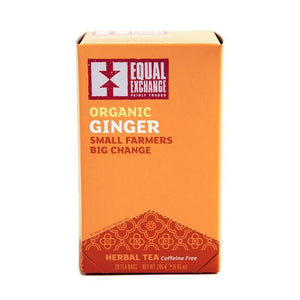 This 100% pure ginger tea is naturally caffeine free. It is sweet and rich in flavor with a warming, peppery ginger finish. Drink to sooth, de-stress or re-energize mind and body alike.
Aroma: spicy, ginger root, ginger candy, pepper
Flavor: crystallized ginger, ginger root, lemon, and black pepper
Our ginger is grown by the Marginalized Organic Producers' Association (MOPA), a network of over 800 farmers, about half of whom are women, in the Uva and Central regions of Sri Lanka. These farmers grow tea and spices, and are committed to organic and biodynamic agriculture. MOPA was created in partnership with Bio Foods, an organization that provides market access to small farmers so that they can stay on the land, provide strong livelihoods to their families, and maintain healthy and vibrant communities.

Most teas — even Fair Trade teas — come from large-scale plantations and tea estates where workers have little say, and are trapped in a system of dependency. Equal Exchange's fairly traded, organic teas are different! We buy our delicious tea directly from democratically-organized groups of growers. When small-scale farmers gain access to the global market, they have more economic power, better lives, and healthier communities.