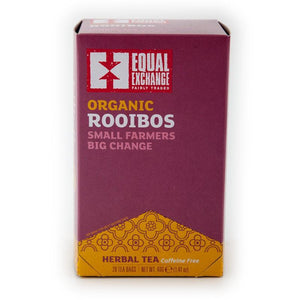 This botanical infusion of the rooibos plant from South Africa has the flavor of tea but is surprisingly caffeine free.
Aroma: almonds, vanilla, hawthorn berry, clean linen
Flavor: almond paste, sweet cedar, vanilla, pine
This herbal tea is grown by farmers at the Wupperthal Original Rooibos Co-operative, a democratically-organized group of small-scale farmers who have cultivated rooibos in South Africa for generations. These farmers were pushed off the most fertile land in the 1800s and later endured segregation imposed by apartheid. Their dry land is a challenge for most crops. But with rooibos, the slower growth results in quality that can't be found anywhere else.

Most teas — even Fair Trade teas — come from large-scale plantations and tea estates where workers have little say, and are trapped in a system of dependency. Equal Exchange's fairly traded, organic teas are different! We buy our delicious tea directly from democratically-organized groups of growers. When small-scale farmers gain access to the global market, they have more economic power, better lives, and healthier communities.