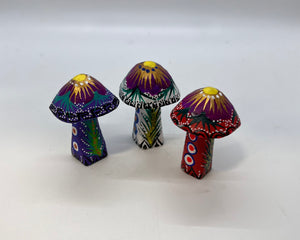 Alebrijes carvings like animals, people, objects, and imaginary wooden creatures painted with intense colors and intricate patterns from Oaxaca, Mexico. Distinctive cultural artifacts representing a tradition of Mexican folk art.
Copaleros collect the wood, which is then dried, and pieces are selected for carving. The shape of the branch often dictates the figure to be carved. Intricate, twisting shapes are desirable for carving lizards, cats, and dragons with interwoven tails. The figures are sanded and painted with a base coat of paint. The final painting is done meticulously with intricate patterns and vibrant colors. Originally, alebrijes were painted with water-based paint that faded or rubbed off, but now producers have switched to latex based house paint. 
Alebrijes have different elements from different animals such as dragon bodies, bat wings, wolf teeth, deer antlers, fish fins, and dog eyes. They're also painted with vibrant colors and feature detailed patterns. They come in different shapes, sizes, and have faces that exhibit a range of emotions. So, you'll never find two that are exactly alike. But they're still nothing more than art.