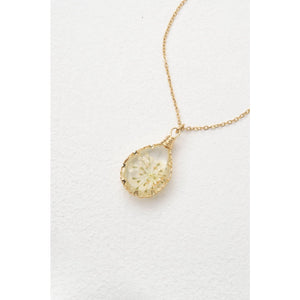 Our Blossom Necklace is a teardrop-shaped prong setting that holds delicate dried flowers wrapped in shimmering glass. Each delicate flower reminds us of every woman's unique story of restoration while the teardrop shape reminds us of the nourishing rain before the bloom. With its adjustable 14k plated gold chain, the Blossom Necklace is perfect for everyday wear and layering alike. Thank you for restoring hope with us through your purchase of the Blossom Necklace.

Box size and color may vary. 
Materials: 14K gold plated stainless steel earrings
Hypoallergenic; lead and cadmium free with nickel content less than 100 ppm.
Size:  16-18 inches

We are a Social Enterprise with a Holistic Care Program that cares for women escaping human trafficking and exploitation in Asia. At Starfish Project women and girls  experience freedom, establish independence and develop careers. We have employed and trained over 150 women and served thousands more through our community outreach.