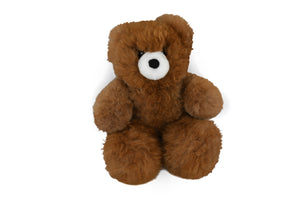 Handmade, No Two are Alike, Great for the Collector

Natural shades of fine alpaca fur from the Peruvian Andes.

Carefully crafted by artisan Carmelo Pacompilla.

Big and soft Teddy Bear for your children.

Teddy bear for collectors or to give as a very nice gift to somebody you would like to surprise.

Largest Alpaca teddy Bear This bear is genuine alpaca fur. It is soft and very fluffy and very very BIG!

The best Teddy bear you can give is a soft and lovable furry alpaca bear. It will last forever and is so soft to pet!

Made of natural soft Alpaca Fur 100% Handmade in the Andes of Peru

20" Tall and very light.
Color Vary