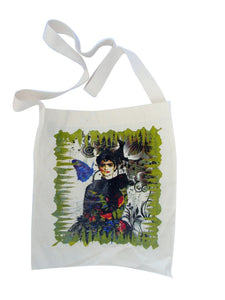 Handmade item

Organic Cotton Large Market Tote Bag

Separate by color, machine wash cold, line dry. Iron if necessary.

Screen Printed meticulously with love by hand.
Portrait of Frida Kahlo with her signature flowers and butterflies hand printed on a sturdy canvas tote bag made in Peru.
Frida printed portrait original silkscreen 5 color separation hand applied soy based color mix.
The bag measures 14 in. wide 15 in. tall with 24 in. handles.
A great tote bag for Frida fans or collectors! This bag with image of Frida Kahlo doesn't only look good but it is functional as well. This bag is great for the market, school and everyday use. 
"I paint myself because I am so often alone and because I am the subject I know best" she said.
 A cool Frida Kahlo bag to run around beautiful and unique enough to make you giggle...